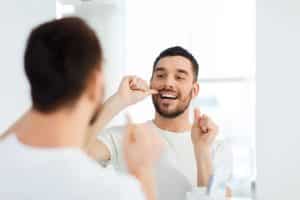 Do you know very much about the different parts of your dental hygiene session? For instance, if we focus on flossing: Are you certain about how many times a day you should floss? Do you know how long it should take? Is it supposed to happen in the morning, at night, or both? If you don't know, there's no time like the present to get the details all sorted out! This aspect of care is extremely important, which means the more you know, the better you can protect your oral health!
About Your Frequency
How often should you floss? If you think your body will give you some brownie points for extra flossing, think again: You really only need to practice this part of your dental hygiene once every day. If you get something trapped between your teeth or you prefer twice daily flossing, no problem, you may go right ahead!
About The Duration
It should take you around two minutes (give or take) to successfully floss your entire smile. If it's taking you 10 seconds or 10 minutes, you might need to reconsider your approach. You simply need to do a complete job, making your way between all teeth (and behind very back teeth).
About The Time Of Day
It doesn't matter if you floss in the morning or in the evening. Just ensure you're incorporating it into one of your twice-daily dental hygiene sessions to ensure success.
About The Lineup During Dental Hygiene
Once you choose morning or evening, remember that you may floss before brushing or after. It's up to you!
Floss Consistently To Maintain Healthy Teeth And Gums
Keep gums healthy by learning more about proper flossing from our team and following through on those recommendations. Learn more by scheduling a visit in Prairie Village, KS by calling Robert M Browne, DDS at (913) 901-8585.