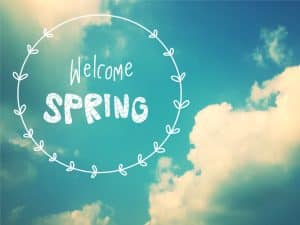 It's springtime, which is generally the time of year that gives us the motivation we need to start new projects, to get things organized, and to do so with a smile on our faces. The frigid weather has left and we can look forward to blossoming flowers and the sky's the limit! From where we sit, we say, why not use all of this feel-good time to make good choices for your oral health?
Tip: Start Fresh
Now that spring is here, it's a good time to clean the slate and start fresh if you think you need to. Let go of any guilt or bad habits you've been carrying around and get started on your best oral health yet! Come in for a visit, so we can provide you with a checkup and cleaning. Also, get serious about your dental care at home.
Tip: Get Situated
Do you often have good intentions for your oral health but circumstances prevent you from following through? If so, get yourself a bit more organized for the rest of the year and those habits can last a lifetime. Call in advance to schedule visits with us. Stock up on necessary dental hygiene items. Gather up a travel kit for vacations or for work, so you are always able to clean your smile.
Tip: Consider Important Improvements
The weather is finally nice enough to venture out of your home, so why not spend this time coming in for whatever your oral health needs? Or, make use of the lovely temps by scheduling the cosmetic treatments you've been dreaming of receiving.
Achieve Better Oral Health This Spring
Spring is a wonderful time to start over, refresh your habits, and get your dental care up to snuff by coming in to our practice for a checkup. Learn more by scheduling a visit in Prairie Village, KS by calling Robert M Browne, DDS at (913) 901-8585.