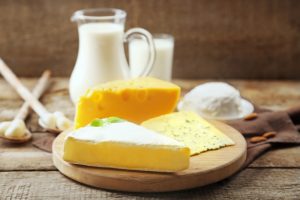 Are you someone who could easily clear a plate of cheese in mere minutes? Do you often reach for a glass of milk with your meals instead of soda, coffee, or tea? Maybe you find that you gravitate toward yogurt as a snack, when your friends are reaching for more carb-loaded items. If you happen to enjoy dairy, you're doing quite a favor for your oral health. Not sure what makes this selection so beneficial? We've got some answers for you!
It Won't Yellow Your Smile
Assuming you're eating the simplest form of dairy (as in, it hasn't had any additional ingredients or colors added), then what you're eating will not stain your teeth. Cheese, yogurt, milk … they're quite pale and not loaded with powerful pigments. You can eat them without fear that you'll end up with a yellowed smile!
It Won't Cause An "Acid Attack"
Dairy foods are extremely low in carbohydrates and sugars, which are the main culprits behind the "acid attack" that occurs when you eat certain snacks. Since you're not coating your teeth in sugar or carbs, the bacteria in your mouth are not feeding on the particles. As a result, eating dairy actually helps you avoid problems like tooth decay, rather than promoting it.
It Is Good For Strong Teeth
As you probably learned all the way back in elementary school, dairy products are typically known for their calcium content. This mineral has a wonderful reputation for its effects on your oral health because it offers strength.
Dairy Can Help Keep Teeth Strong
Find out more about how to protect your smile with the right nutrition by coming in for your preventive care. Learn more by scheduling a visit in Prairie Village, KS by calling Robert M Browne, DDS at (913) 901-8585.