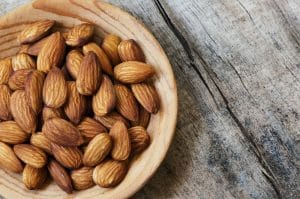 Every time you turn around, you're hearing more and more about the health benefits of almonds. Are they really the superfood you keep hearing about? Or, are they something to avoid since they can find themselves on the "hard to bite into" list? The truth is, they are very beneficial for your oral health, as long as you are mindful about the types of almonds you eat and how you eat them. Let's make our way through the details, so you have the final answers you've been looking to receive.
The Good
If you're someone who happens to love almonds (or you're thinking of adding them to your diet), it's a good idea to become accustomed with the good aspects of choosing this food. Almonds are beneficial for your oral health. They are advantageous in certain ways because of the following:
They're packed full of calcium, which is a mineral that your body needs to maintain strong teeth and bones
They can help scrape plaque from your teeth as you eat them
They contain protein
They do not promote tooth decay like carb- and sugar-heavy foods
The Bad
Now for the bad when it comes to choosing almonds for your oral health. The "bad stuff" generally includes things you can avoid, so if you're careful, you have the green light to chow down on this snack food. First, if the almonds you're reaching for are too hard for your smile, you could break a tooth or damage dental work. If this is the case, seek out almonds that are already cut down into smaller pieces. You also need to watch out for almonds coated in honey or sugar, which can contribute to cavity formation.
Eat Nutritious Foods For A Healthy Grin
Find out more regarding how to incorporate healthy foods into your diet, so your oral health benefits from your choices. Learn more by scheduling a visit in Prairie Village, KS by calling Robert M Browne, DDS at (913) 901-8585.