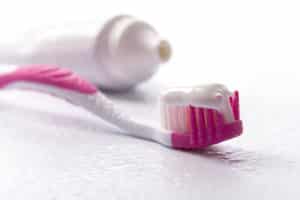 Your toothbrush's main purpose is to keep your mouth clean, so it should come as no surprise that keeping your toothbrush clean is paramount to maintaining your good oral health. To help ensure that your toothbrush remains free of bacteria and strong enough to effectively clean your teeth, we offer a few tips on how to properly care for and store your toothbrush for optimal dental health.
How to Care for Your Toothbrush
Keep it away from the toilet—In many bathrooms, the sink is only a few feet away from the toilet. When the toilet is flushed, microscopic particles can drift into the air and onto your toothbrush. Close the toilet lid before you flush and keep your toothbrush as far from the toilet as possible to avoid contamination.
Wash your hands thoroughly—Even if you don't eat something or brush your teeth immediately after using the bathroom, the germs on your hands can stick with you until you pick something up, like your toothbrush. Be sure to wash your hands vigorously after every bathroom break, as well as before every teeth brushing session.
Rinse the brush—After every use, take care to rinse the bristles thoroughly with warm water. For optimal results, you can also rinse the brush in anti-bacterial mouthwash before using it.
Let it air dry—Toothbrush containers that completely seal off the toothbrush can be helpful when you're travelling. However, sealing a wet toothbrush in its container can create a moist environment that makes it easier for germs to proliferate. Instead, store the toothbrush upright and let it air dry.
Switch it out every three months—Frayed bristles can render your toothbrush ineffective at cleaning your teeth of bacteria and plaque. The general rule is to change your toothbrush every three months, or as soon as you notice that the bristles are frayed.