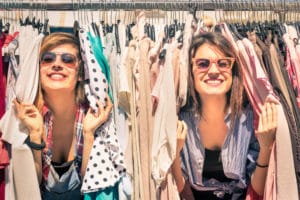 While you may think of a vintage market as an exclusively adult shopping experience, the Vintage Whites Market has made a name for themselves creating an exciting, family-fun atmosphere. From the Pioneer Woman herself, to live music, this isn't your average weekend market. This company travels from city to city creating a rollicking good time with great vintage finds. For the die-hard vintage lovers and the casual fans, here are 4 family friendly activities at the Vintage Whites Market, August 26th-27th.
The Pioneer Woman Speaks
With her incredible, simple recipes, and her lovely collection at Walmart, The Pioneer Woman aka Ree Drummond has won over our hearts. She'll be speaking on Friday afternoon, and to reserve your spot to see her you'll need to purchase an early evening admission ($16).
Kids Get in Free
All kids under 12 will attend this vintage bonanza for free! Add that to your list of reasons to give it a looksie. Saturday entry will start at the discounted price of $6, as well. If you're a bargain hunter by nature, Saturday would be the day to go. You can even try your hand at negotiating with the vendors, towards the end of the day.
Live Music for a Lively Time
Poor Bishop Hooper will be providing the soundtrack to this festival in West Bottoms' historic 12th street bridge. Food, demonstrations, and more special guests mix with this live band to create a far beyond average outdoor vintage market.
Don't Forget the Vintage
Just because it's more than vintage, doesn't mean the merchandise itself isn't fabulous. The super early bird entry for the hundreds of vendors' best selections will run you $35. That sort of dedication is reserved only for those with a true vintage fever. For the rest of us, a lovely Saturday market might be just right.