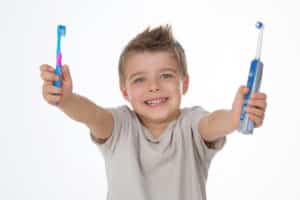 Recently, one of our patients – a retired school teacher who volunteers for the Amethyst House – requested a supply of toothbrushes to hand out to the students she tutors there. During her last visit a couple of weeks ago, she told us the story of a young boy she was tutoring who, after being handed the brand new toothbrush, replied that he had never had a toothbrush before. We donated another several dozen, and will continue to do so to help ensure that he and all of the children have access to the basic essentials they need.
This story was especially touching to us as both dental professionals and parents. We know that taking care of young smiles as early as possible is vital to enjoying a lifetime of beautiful, healthy smiles. But also, inadequate hygiene and dental care can also dramatically affect children in the present. Studies have shown that poor oral health can have negatively influence attendance and performance at school, and can increase risks of oral and overall health risks later in life.
To learn how you can better protect your children's smiles, or for information on how you can help contribute to providing hygiene essentials to children and families in need, call Dr. Browne's office in Prairie Village, KS today at (913) 901-8585.