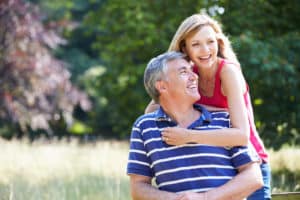 Tooth loss can hurt your confidence, and disrupt the way you eat, chew, and speak. A prosthetic replacement tooth from your dentist can help you eliminate the problems associated with tooth loss. This means an improved appearance, and a ceasing of complications to your oral health related to tooth loss. Several types of dental prosthetics exist, and your dentist can help you make your selection. The right choice may hinge on how many teeth you have lost. There are options for replacing a single tooth, and methods of restoring total tooth loss. You should know that keeping your gums healthy can protect you from tooth loss. An ultrasonic deep clean can fight back against gum disease before it can damage the sockets around your teeth.
Dental Bridges And Implants Can Take The Place Of A Missing Tooth
If you have lost a tooth – or if you have lost a few in a row – a dental bridge can be crafted to replace what was lost. The bridge consists of a pontic (the dummy tooth) held between dental crowns on each side. A bridge with multiple teeth can also be constructed. A dental implant holds your prosthetic tooth by effectively becoming its tooth root. The implant connects directly to your jaw, and does not interfere with its neighboring teeth.
Advanced Tooth Loss? Dentures Can Help
Dentures can be constructed to address either partial or total tooth loss. If you still have some teeth, a set of partial dentures can work around them. For total tooth loss, a full set can be created. You can actually receive dental implants in order to hold a set of full dentures – this type of hold can avoid grip issues that conventional dentures can sometimes face.
ABOUT YOUR PRAIRIE VILLAGE

, KS

DENTIST

:
With decades of professional dental care experience, native of Kansas City, Robert M Browne, DDS is proud to provide general, cosmetic, restorative, and prosthetic care to patients from Prairie Village and surrounding communities. To learn more or to schedule a visit with Dr. Browne, contact our office today at (913) 901-8585.