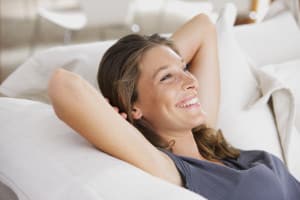 A professional cosmetic dental treatment has to be performed at your dentist's office…right? While that would certainly be a logical conclusion, you might be surprised to know that your dentist can give you the necessary tools to whiten your teeth at home. Rather than having the treatment in the office, you can receive custom-sized dental trays and prescription bleaching gels, and whiten your teeth yourself. The procedure may occur from the comfort of your own home, but after 10-14 days of applying the bleaching agent, your teeth will enjoy a dramatic improvement.
What Separates Professional Whitening From Over-The-Counter Products
The bleaching agent in professional whitening gel can break apart stains that have settled in your enamel. While over-the-counter products like whitening toothpaste can work admirably against stains on your enamel's surface, they tend to leave those deeper-set stains unaddressed, so their effect is less pronounced.
Making Sure That Your Teeth Will Benefit From Whitening Treatment
Before you begin a whitening treatment, you should verify that it will provide you with the results you want. Unfortunately, there are forms of tooth discoloration that whitening treatments do not address. Physical trauma to a tooth can result in that tooth producing more dentin, which is darker – this can leave a tooth with a grayish hue. Certain medications can cause your teeth to become discolored. Other cosmetic treatments can help in these cases. People with an injured tooth can often hide evidence of trauma with dental bonding, which can restore the proper color and hide cracks. If discoloration is more widespread, porcelain veneers can cover multiple teeth, and leave you with a charming, unblemished smile.
ABOUT YOUR PRAIRIE VILLAGE

, KS

DENTIST

:
With decades of professional dental care experience, native of Kansas City, Robert M Browne, DDS is proud to provide general, cosmetic, restorative, and prosthetic care to patients from Prairie Village and surrounding communities. To learn more or to schedule a visit with Dr. Browne, contact our office today at (913) 901-8585.