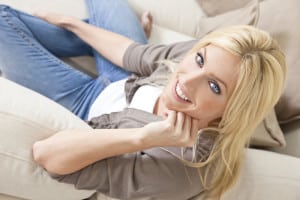 Tooth bonding and contouring offer cosmetic benefits, often in a single visit. Contouring can address a tooth's shape, and help reduce an overly large tooth. Bonding uses composite resin to cover signs of damage and discoloration, as well as adding size to a small tooth. These procedures can be performed together, with your dentist removing precise portions of your enamel, and using resin to cover and add to it as needed, to improve your appearance. Bonding and contouring can tend to the esthetic needs of one or several teeth through relatively modest modifications.
Resizing A Problem Tooth
If your tooth is too large, or has a jagged, uneven appearance, your dentist can make it fit more comfortably with your other teeth through contouring. With contouring, your dentist removes a select portion of enamel, to safely resize the tooth without affecting its function. Bonding can cover a gap between teeth, or add to the size of a small tooth.
A Simpler Restoration Than Veneers Or Crowns
Bonding and contouring are easier to and faster to perform than the placement of dental crowns or porcelain veneers. Porcelain veneers are affixed to the front of your teeth, while a dental crown covers your tooth to your gum line. Because bonding does not require a custom-made appliance to be placed on a tooth, it can offer a simpler fix. However, porcelain veneers can offer a longer-term restoration, and are can address cosmetic needs for your overall smile, while bonding typically focuses on one or a few teeth.
Address Signs Of Tooth Damage
Chips and cracks in a tooth can be restored through bonding and contouring. Bonding can also remedy discoloration from damage, unlike standard whitening treatments. However, if your tooth is impaired, a dental crown can address its functionality.
ABOUT YOUR PRAIRIE VILLAGE

, KS

DENTIST

:
With decades of professional dental care experience, native of Kansas City, Robert M Browne, DDS is proud to provide general, cosmetic, restorative, and prosthetic care to patients from Prairie Village and surrounding communities. To learn more or to schedule a visit with Dr. Browne, contact our office today at (913) 901-8585.