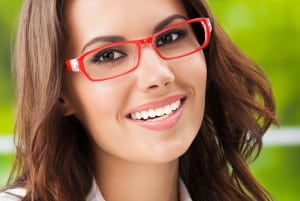 By receiving porcelain veneers, you can make improvements to the shape of your teeth, and their color. The veneers, thin and semi-translucent shells that are designed to look like a row of healthy teeth, are placed over the front of your teeth. The application of veneers is a popular cosmetic treatment, one that allows your dentist to correct several esthetic flaws with a single procedure. While they are designed to be durable, it is important that you take proper care of them, to protect their appearance.
Receiving Porcelain Veneers
In order to accommodate the space taken up by veneers, your dentist may need to treat your enamel by removing a small portion of it. Your veneers will be custom-crafted, in order to provide the most natural fit over your existing teeth. The tint of your veneers can also be adjusted. You can opt for a color that matches the shade of your natural teeth. Many people use veneers as an alternative to teeth whitening. Once the veneers have been affixed to the front of your teeth, they will hide any of the imperfections that previously marred your smile. Veneers can improve the color of your teeth, they can hide misshapen or damaged teeth, and can even cover unnatural spaces that exist between teeth.
Caring For Porcelain Veneers
Because your veneers are permanently bonded to your teeth, you should take steps to ensure they keep their appearance. While veneers are durable and stain-resistant, you should be wary of dark beverages, like red wine, tea, or coffee, that can stain your veneers. Brushing your teeth with a non-abrasive toothpaste can reduce the risk that they will become scratched or scuffed.
ABOUT YOUR PRAIRIE VILLAGE

, KS

DENTIST

:
With decades of professional dental care experience, native of Kansas City, Robert M Browne, DDS is proud to provide general, cosmetic, restorative, and prosthetic care to patients from Prairie Village and surrounding communities. To learn more or to schedule a visit with Dr. Browne, contact our office today at (913) 901-8585.