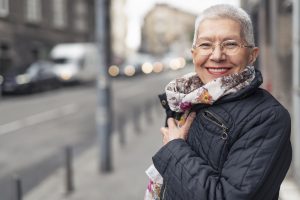 When you lose teeth, you can struggle with more than just a smile that appears less attractive and less healthy. Just one gap in your smile can change your ability to bite and chew food properly, an issue that can affect your diet, and may also lead to problems with TMJ disorder. Until you do something to address the space left by your lost tooth, you also have to worry about the teeth at either side of the gap becoming loose. At our Prairie Village, KS dentist's office, Dr. Browne can provide you with a permanent solution for tooth loss in the form of a custom dental bridge. The bridge will be permanently placed with a pair of dental crowns that cover the teeth on either side of an empty space. In between them, the pontic (the replacement tooth) will be able to restore your smile and also give you more bite support!
Stop Letting Tooth Loss Interfere With Your Life And Oral Health
If you experience tooth loss, you have to worry about more than just a problem with your smile. This is a serious oral health issue, one that can negatively affect your bite function in ways that lead to the overuse of remaining teeth. In addition to overworking your remaining teeth, you can unconsciously put more stress on your jaw joints and muscles by working around a gap, which can lead to TMJ disorder.
What A Dental Bridge Does To Restore Your Smile
A dental bridge is a personalized appliance that your dentist is able to permanently place. That placement is possible because the crowns at either side of the restoration go over the teeth at either side of a gap, ensuring that it will remain in position. Before your bridge is made or placed, your dentist will take careful measurements and prepare you for the permanent placement of your prosthetic.
Discussing Other Prosthetic Treatment Options With Your Dentist
In addition to restoring patients' incomplete smiles with dental bridges, we can address problems with missing teeth by recommending you receive a dental implant to hold a prosthetic. Dental implants act the way that tooth roots act for natural teeth. In addition to anchoring your restoration to your jawbone, the implant will create stimulation in the bone that stops it from deteriorating over time! While the process of placing an implant can be more involved, it does take away the need to modify potentially healthy teeth to ensure that your restoration stays in place.
Talk To Your Prairie Village, KS Dentist About Receiving A Dental Bridge
Dr. Browne is ready to meet with patients who are concerned about tooth loss and its impact on their lives. To find out how we can restore your complete smile with a custom dental bridge, please contact our Prairie Village, KS dental office today at 913-901-8585.