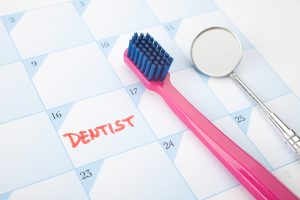 If you have gone more than six months without a dental checkup, you should take care to book your next one. Unless you are told by your dentist to follow a different timeline, you should be consistent with semiannual dental exams. When you stay on top of this routine, you receive consistent protection against problems with tooth decay, gum disease, and tartar buildup. Our Prairie Village, KS dentist's office can provide regular preventive services for you. It should be noted that in addition to helping with common concerns like gingivitis and decay, we can also discuss other problems that can seriously affect your quality of life.
Problems You Can Face If You Go Without Dental Exams
If you are not scheduled for your next dental exam, then you have nothing in place to deal with the buildup of tartar on your teeth. Tartar accumulation can be prevented through smart daily habits. Unfortunately, when accumulations of plaque harden, they remain in place until you have your next professional teeth cleaning. Another problem with not scheduling dental exams is that a problem like gingivitis or decay may have already formed, and gone unnoticed, meaning it can worsen until you have to arrange a more involved restorative dental procedure to return your smile to good health.
What To Expect At A Typical Appointment
At a typical routine exam, your smile will be thoroughly cleaned and closely observed by your dentist. The cleaning you receive will clear away deposits of plaque and tartar that cause problems with your oral health. During your review, your dentist can look for any issues like gingivitis, which can call for an ultrasonic scaling, cavities, and other concerns. In addition to looking for common concerns, our practice checks patients for visual signs of potential oral cancer, troubles with TMJ disorder, and more!
Planning Treatment If Your Dentist Observes A Problem
If a problem is identified at an appointment, the appropriate restorative dental procedure can be arranged. We offer different approaches to restorative care for cavities. If decay is caught in time, a dental filling is used to treat your tooth. For a more severe cavity, we may need to move forward with root canal therapy and dental crown placement. We can also discuss treatment options if other issues impact your dental health and need to be addressed.
Set Up A Exam At Our Prairie Village, KS Dentist's Office
Dr. Browne helps people in and around the Prairie Village, KS community with their oral health needs. At a routine exam, we can check on you to determine if there are any issues with tooth decay, gum disease, or other matters that must be addressed. We can also provide preventive services to keep you safe against these threats. To find out more, contact our Prairie Village, KS dental office today at 913-901-8585.