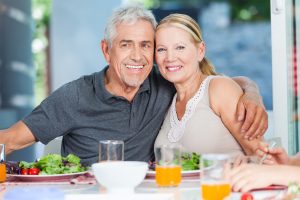 A meal you used to love may feel like it has to be taken off the table permanently if tooth loss has affected your bite function. In addition to affecting the way you look, the loss of teeth can start to interfere with your ability to comfortably bite and chew. On top of making it harder to enjoy certain items, this can lead to pain and stiffness related to TMJ disorder! At our Prairie Village, KS dentist's office, we have experience helping people who have been affected by tooth loss. With dental implants, we can provide you a permanent dental prosthetic that can help you smile, bite, and chew with more comfort and confidence!
Dental Implants Provide Permanent Support For Your Restoration
Dental implants are set directly in your jawbone, where they will provide support for a custom prosthetic appliance. Their placement ensures that your restoration can stay in place, even as you exert pressure on it while you bite and chew food. The use of your restoration in this way helps you reduce wear and tear on remaining teeth, and the implant can provide positive stimulation for surrounding jawbone tissue.
Arranging Prosthetic Work That Includes Dental Implants
In order to stay secure, a dental implant is set directly in your jawbone. Its placement can mirror the kind of support that you enjoy from natural teeth roots – in fact, the post will be carefully set in an area where a tooth's roots were previously held. The placement process will be arranged after an appointment where your dentist confirms that you are a good candidate for this treatment, and identifies the ideal location for your implant. Once the procedure has been completed, and you have received your implant, a healing period will give time for the bone to fuse with the post. Once this is done, you can receive a restoration that allows you to restore your natural eating and speaking functions!
Enjoying Life With A Restored Smile And Improved Dental Function
A permanent dental bridge or dental implant-held restoration can make it easier for you to live life the way you did before tooth loss. Because we use lifelike restorations when taking care of your smile, you can feel confident in the way you look after your work is complete. You can also be happy to experience more functional support as you bite and chew, which can make once-difficult items easier to enjoy!
Talk To Dr. Browne About The Benefits Of Dental Implants
At our Prairie Village, KS dentist's office, Dr. Browne is prepared to help patients who struggle with tooth loss. If you are eager to regain your full smile, and your natural bite, contact our office today at (913) 901-8585.