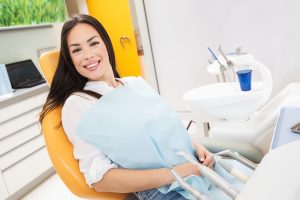 September is here, which means we have entered the final quarter of 2019! This means the holiday season may be closer than you realize, but it also means you should think about what you have done for your oral health so far this year. Unless your dentist has recommended a different schedule, you should be making semiannual appointments for routine dental exams. These periodic checkups deliver meaningful preventive care. You receive feedback about your dental health, which can include warnings about problems that will require restorative dental work. Each appointment also provides you with a professional teeth cleaning. These thorough cleanings remove harmful substances that could cause cavities and gum disease.
Your Daily Care Is Important, But You Should Still See Your Dentist!
Having access to quality dental care can help you maintain a more attractive, healthier smile. In between these appointments, you should take care to provide your teeth and gums with appropriate daily support. Brushing at least two times a day, and flossing at least once, can help you keep your smile free of harmful agents that lead to dental troubles. You should also think about how your diet is impacting your dental health – too much sugar on a frequent basis can make your cavity risk spike! So if you are doing good work protecting your smile each day, why should you worry about dental exams? These visits provide important feedback, and they can lead to the early detection and treatment of problems you have not noticed. Your sessions also include professional teeth cleanings, which can make sure your teeth are completely rid of harmful agents.
Undergoing A Routine Dental Cleaning
During a professional dental cleaning, plaque and tartar are cleared away by your hygienist. You can remove plaque by brushing and flossing, but accumulations of this substance can gather in spaces that are not receiving enough attention when you take care of your smile at home. When plaque deposits remain in place for too long, they can harden to stubborn tartar that you are not able to remove yourself. Having your teeth cleaned on a semiannual basis will give you important protection against potential oral health issues.
Planning Restorative Dental Treatment After An Exam
The ideal outcome of a trip to see your dentist is one where you learn that your smile is totally problem-free! Unfortunately, cavities affect many people, including those who feel they are doing an effective job of maintaining their oral health. If your dentist identifies a cavity that has started to form, arrangements can be made to have your tooth treated with a dental filling. One big benefit of having regular dental exams scheduled is that cavities are recognized in their early stages. If you go without routine appointments, decay can worsen over time, and you can wind up in need of a root canal for a painful tooth infection!
Talk To Dr. Browne About Scheduling Your Next Dental Exam
At our Prairie Village, KS dental practice, patients can look forward to expert care from Dr. Browne! To make an appointment with us, please contact our office today at (913) 901-8585.