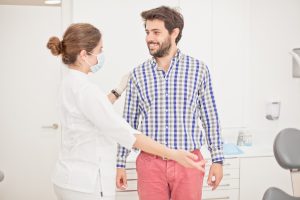 An ultrasonic scaling goes beyond the degree of care provided during a typical professional dental cleaning. So what makes it necessary in some cases? The goal of this procedure is to target harmful bacteria that have accumulated below your gum line, and caused an infection. By treating your teeth under your gums, your Prairie Village, KS dentist can help you recover from gingivitis, and avoid complications that can arise when gum disease is not treated in time. It is important to see gum disease as more than just a nuisance – in its advanced form, it can potentially cause you to experience tooth loss!
Should I Expect To Undergo An Ultrasonic Scaling During My Next Dental Appointment?
You may not be in pain because of gum disease, but there are symptoms that can attract your attention. For instance, you might feel that your gums bleed easily when you clean them. You can also have problems with chronic bad breath, or swollen and reddened tissues. If your dentist sees cause to worry about the health of your periodontal tissues, they can talk to you about arranging an ultrasonic scaling.
Your Daily Oral Care Habits Can Help You Avoid Problems With Gum Disease
Your daily oral care routine can help you fight the buildup of bacteria that can cause gingivitis to occur. If you want to make sure your habits are effective, ask yourself this question:  Am I doing a good job cleaning my teeth at the gum line? Brushing thoroughly, and flossing efficiently, means clearing away any bacteria buildup on your teeth. If you fail to address the area around your gum line when you are brushing and flossing, your risk for gum disease elevates. Of course, those insufficient efforts can also put you at a higher risk for tooth decay!
Dr. Browne Can Work With Patients Who Need To Address Periodontal Problems
If you want to make sure your smile is truly healthy, you need to consider the condition of your gums. Robert M Browne, DDS can help you address gum disease with an ultrasonic scaling, which involves the removal of bacteria from below your gum line. To learn more or to schedule a visit with Dr. Browne, contact our office today at (913) 901-8585.