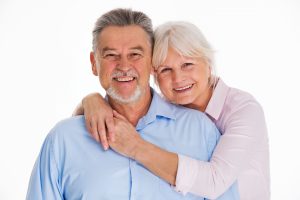 Losing multiple teeth, or all of your upper or lower teeth, can feel devastating. Your ability to eat can be seriously compromised by tooth loss, and you can feel discomfort over how you look. Dentures can make it possible to restore your smile, even when many teeth are missing. Your Prairie Village, KS dentist can talk to you about creating and supplying you with your own custom restoration, and about the benefits to replacing lost teeth. You can feel better about how you look, and even enjoy meals with more confidence. With the use of dental implants to stabilize your prosthetic, you can be impressed by the way your prosthetic work can improve your dental function.
Enjoy Modern Support For Your Dentures, Thanks To Dental Implants
When you have dentures held in place by dental implants, you can feel better about their presence. The stability provided through this arrangement can make you feel more confident while you are speaking, biting, and chewing, as you can avoid concerns with a prosthetic that loses its place. Your implants also help you avoid problems with the deterioration of your jawbone, an issue that can seriously impact the way you look, and your dental health.
What Can Happen If You Continue To Ignore Problems Connected To Tooth Loss?
If you continue to put off prosthetic dental work, you can continue to struggle with real difficulties. In addition to making you self-conscious, advanced tooth loss can make it seem impossible to eat many different foods. This can rob you of your ability to maintain a nutritious and varied diet. You can also continue to lose mass in your jawbone. If that problem continues, you can start to notice that your face takes on a "sunken" quality. This deterioration can also lead to complications with planned prosthetic work.
Dr. Browne Can Help You Restore Your Smile By Providing Dentures
You can meet with Robert M Browne, DDS to discuss the benefits of partial or full dentures, which can give you back your complete smile after serious tooth loss. To learn more or to schedule a visit with Dr. Browne, contact our office today at (913) 901-8585.