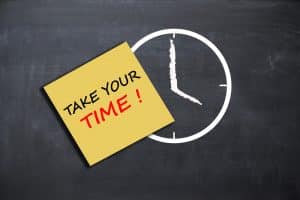 There are many instances in dental care in which you should get serious about your time management. For example, you want to make sure you're on top of your dental hygiene to prevent problems. You want to come back in as soon as possible after learning you need a restoration, so your oral health issue doesn't suffer and become worse. However, you might not recognize the fact that there's no rush with cosmetic care. Not sure why? Let us enlighten you!
It Doesn't Impact Your Oral Health
Since issues with the way your smile looks won't actually impact your oral health, you don't need to worry about a timeline. Instead you can think over your options to address problems like teeth discoloration, small spaces, chips, craze lines, and more, until you feel like you've given it enough thought! There will be no consequences to your smile health.
It's Important To Choose What You Want
If you jump into a decision without considering all the details and options (and you don't feel confident as you do it), you may regret your choices later. With cosmetic care, you don't need to feel the pressure to choose until you're certain about what you want. So, take your time and make the selection that works for you.
Remember, A Healthy Smile First
The number one priority is a healthy smile, not a beautiful smile (though we certainly agree that loving your smile's appearance is one of the top priorities). As a result, focus on restoring your oral health if necessary, so you can concentrate on what really matters for your body. Then move ahead with considering cosmetic care.
Choose Cosmetic Care With Our Practice
When you're ready to embark on the journey toward a more beautiful smile, cosmetic care is the way to go. Learn more by scheduling a visit in Prairie Village, KS by calling Robert M Browne, DDS at (913) 901-8585.