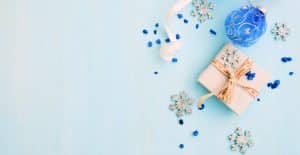 Are you ready for the holidays? Have you checked off just about every last task you could ever imagine having to check off? If so, you probably have a little bit of spare time left before parties commence and gift opening begins. Good! That's just what we were hoping to hear. We figure that you might as well consider some oral health related advice, so you're ready in advance of the New Year to keep your smile looking and feeling wonderful. (And, of course, Happy Holidays!)
Take Care Of Old News
Is there something you should have taken care of already when it comes to your oral health but you just haven't done it yet? Don't worry, nobody is judging you. Life is full of busy times, scheduling conflicts, surprises, and more. However, now that you have a moment to think it all through, we encourage you to schedule any outstanding appointments to make sure your smile stays healthy. Need a root canal, filling, or something else? Call us today!
Keep Up With Consistent Needs
Now that a brand new year is on the horizon, we encourage you to keep up with good habits (or to take this opportunity to get back on track). You'll need to remember the following if you want optimal oral health:
Brushing and flossing is still just as important as ever
We still need to see you two times every year for checkups and cleanings (this will help prevent decay, infection, bruxism, TMJ disorder, and more!)
Get Started On New Journeys
Ready for dental implants, bonding, teeth whitening, veneers, or another service? Contact us, so we can get started.