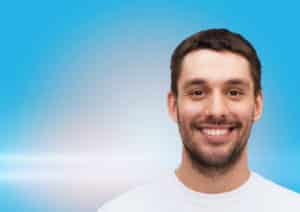 With the wide availability of over-the-counter (OTC) teeth-whitening products, it can be tempting to purchase one (or several) in lieu of visiting your dentist to brighten your smile. However, the reason OTC whiteners are so widely available is the same reason why they typically don't produce results – because they contain significantly lower concentrations of bleaching agents than professional treatment.
Before trying any teeth-whitening product, speak with your dentist to determine if an OTC option will work, or if you need the strength of professional teeth-whitening to improve your smile.
How Teeth-Whitening Works
The secret to teeth-whitening is in the solution that is used. Usually peroxide-based, the bleaching agent breaks up staining deposits on the surfaces of your teeth and brightens the structure underneath your semi-translucent tooth enamel.
The Value of Professionalism
There are several issues to keep in mind when dealing with OTC teeth-whitening. While it may work for minor stains, most patients are unsatisfied with the outcome, and can therefore overuse the product as they try to improve the results. Besides improved potency, professional teeth-whitening also provides the advantage of having a dentist inspect your teeth stains to ensure that whitening is the correct option.
If one or more teeth are discolored because of tooth decay or internal damage, or if your teeth exhibit internal discoloration (meaning the staining occurs underneath the enamel), then you may require a different option to improve your dental health as well as the appearance of your teeth.
ABOUT YOUR PRAIRIE VILLAGE, KS DENTIST:
With decades of professional dental care experience, native of Kansas City, Robert M Browne, DDS is proud to provide general, cosmetic, restorative, and prosthetic care to patients from Prairie Village and surrounding communities. To learn more or to schedule a visit with Dr. Browne, contact our office today at (913) 901-8585.